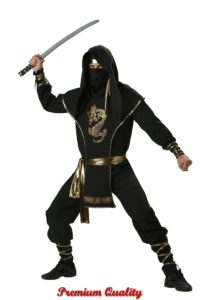 As an adult, seriously how cool is this Ninja Warrior Adult Costume
.
It is such a cool costume it would be perfect for any adult looking to get the most fun out of their Halloween or any fancy dress party.
Mysterious, bold, daring and a true warrior costume, perfect for men or women. Ninjas are always popular this time of year simply because you can be very mysterious and keep people guessing.
Ninjas always fascinate and excite people and in history they are noble people, brave, intelligent and organized.
In popular culture, they are of course seen as just a fighting people and there have been many movies, TV programmes, Comics and cartoons made just think Teenage Mutant Ninja Turtles (View Costumes) and you get the stereotypical picture.
Because of this we have a wide range of excellent costumes available for the Halloween and this is one of the best.

View Ninja Warrior Elite Adult Costume purchasing details
This costume includes a black shirt and pants with gold ties on cuffs; black hooded tunic with a gold dragon emblem; black face mask headband; and a gold waist sash. Available in adult Men's sizes Medium, Large, and X-Large.
If you search online for Ninja costumes you simply will come across thousands but to me, this is one of my favourite. We have a lot of Ninja costumes here on our site for men, women and children and most that we have chosen to add to our site are just amazing looking and of the highest standard and quality.
Be sure to check sizes, delivery and availability and if you do purchase this costume and have any pictures to share, please send them to us.
Save
Save