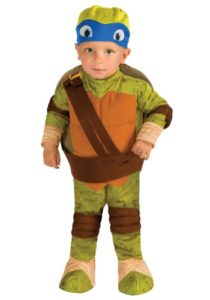 Seriously loving this Leonardo Child Costume
, here at our site we are crazy about Ninja costumes and have included a page about some of the most famous ninjas of them all, of course, the Teenage Mutant Ninja Turtles.
There are some crazy cool costumes available for children as well as adults for the Halloween or any fancy dress party.
Everybody I am sure knows about the Teenage Mutant Ninja Turtles and the cool comics, 80's cartoon and all the movies that have come about over the years have brought us plenty of entertainment.
The fab four have been a favorite with children through the years and one of the favorite is Leonardo and here we have a cool Halloween costume for a young child.
This costume includes a cool jumpsuit with realistic muscle chest and arms, turtle shell and half mask headpiece. Available in Toddler/Child Sizes: 2T, 3T/4T and 4/6x.

View Leonardo Muscle Child Costume purchasing details
There is soon to be, and excitingly I type this, a new Turtles movie due out in the next year or two. This is once again going to drive huge interest in the Turtles again and is sequence a huge surge will rush out for costumes for their children.
Luckily already there are many amazing Turtle costumes available from the companies such as this brilliant one and on our site such as the child's Leonardo and Raphael costumes for you to choose from which is great news for all parents with kids crying out for these superhero costumes.
Save
Save