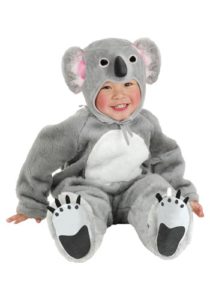 As cute costumes stand, this Koala Bear Infant Costume
is up there with the best of them.
This quality costume is perfect for Halloween or any time of the year.
Koala Bears are loved world wide by adults but especially children. Native to Australia, they have become an icon and many costumes have been created for children in many styles and designs.
This adorable ensemble includes a soft gray romper with a white tummy and a cute koala hood style headpiece.
Sure to be the center of attention at your next costume event be it a birthday party or Halloween! Available in Infant size: 6-12 Months.

View Koala Bear Infant Costume purchasing details
Like all our other bear costumes for children, this is one of the most popular purchases from parents and is up there with our Huney Bear child costume.
Be sure to check out all sizes and delivery information. There are many cute and gorgeous costumes such as these for you too choose from for your child so you really are spoiled for choice.
Save