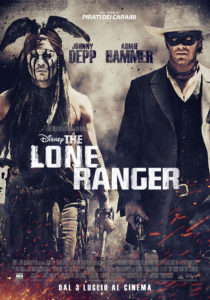 The Lone Ranger is returning in August 2013 in a new exciting movie and who knows what type of baddies and evil enemies he will have to face. Disney has taking the reigns of this new movie and the actors starring in this movie include Johnny Depp as Tonto and Armie Hammer as John Reid aka The Lone Ranger.
Once again, Helena Bonham Carter stars along side Depp in another movie. I will admit I did not have high hopes for this move when I first heard it was in the making, but, after seeing the trailer, as a HUGE Lone Ranger fan I am very excited, it looks amazing, check it out below.
In the Lone Ranger, the baddies included Butch Cavendish and his gang, Collins, Tiny Tom, The Puppetmaster, Professor Whitaker, Marcus Jeffries, Sheriff Barrett, Reece Kilgore, The Black Arrow Syndicate and The Ace Perigon Gang, all bad asses, and dressing up as one of these troublesome men couldn't be any easier with these beauties.
In this new upcoming movie, the nemesis shall be Butch Cavendish and his gang, and the story will be told through the eyes of Tonto. In August 2011, the movie nearly collapsed due to budget problems and was actually shelved, but luckily for us Disney were able to get the film back on track.
I'm very thankful for this. As a young child I grew up watching the old classic 1950's Lone Ranger TV programme, the classic music, the fighting, the horse chases, really great TV for children and I am sure this will introduce the Lone Ranger and Tonto to a whole new generation of children.
As with all new movies comes some fantastic looking Cowboy costumes, and you too could easily be a bad looking bad-ass and theme up with a friend for a crazy fancy dress party or for some Halloween fun. So far, over the years, we here on this site have only come across a Lone Ranger costume for Men, aswell as this gorgeous costume for ladies, and also this stunning ladies Tonto costume.
Unfortunately there are no Lone Ranger costumes for children, but, I do believe there will be new amazing costumes for children to be released for the following Halloween, and we will be the first to have them on our site you can guarantee. For now, enjoy the trailer below and be sure to check out the other costumes available as well as the other Cowboy/Cowgirl costumes available on our site. Tell us below what you think of the move trailer.
Save
Save