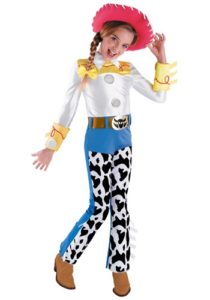 This Jessie Deluxe Toddler/Child Costume
is an excellent costume for little girls for the Halloween and a big seller online.
Just like last year, the Toy Story costumes are selling like hot cakes, each character from the movies have their own costumes as you can see on this site and Jessie is of course a very popular one.
The Toy Story Movies are one of the most popular movie franchises of all time and have giving us many memorable characters.
Jessie the Cowgirl is a huge popular character especially amongst young girls and there are many costumes available for her, even for us adults.
This costume includes a jumpsuit that looks like pants, chaps and a shirt.
Also included is a matching red hat and yellow hairbows, really great Halloween costume. Available in Toddler and Child Sizes: Toddler (3T-4T), Small (4-6X), Medium (7-8).

View Jessie Deluxe Toddler/Child Costume purchasing details
Even a few years after the last and final fantastic movie, these costumes for the Toy Story franchise still sell like hotcakes. From Woody to Buzz Lightyear and so on, they are as popular as ever with children.
These costumes are all available in adult sizes too, perfect for family fun, and believe us when we say, these costumes will never lose their appeal and popularity.
Save
Save