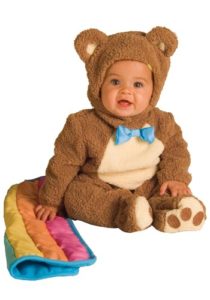 Just look at this Honey Bear Costume
, it is so so cute it would melt the hardest of hearts.
These type of costumes are not just for Halloween but really for all year round.
Teddy Bears will always be popular with children, really actually all Bears are popular with children and dressing up a baby as a bear like this will bring joy to any family.
The Huney Bear bunting features an oatmeal-colored bear popping out of a "huney" jar.
Plush fur and a contrast tummy make this costume cute and comfortable for baby.
A matching character headpiece with googly eyes is also included to complete this darling design. Available in Infant Size: 0-6 Months, not so much a scary Halloween costume.

View Honey Bear Costume purchasing details
At our site we tend to search and research the cutest costumes for you children, and most of our companies we deal with seem to have an unbelievable vast selection of gorgeous costumes.
This is one of our favourite, seriously, how cute is this costume. This is perfect for boys or girls and will be shipped next day to where ever you live, be it the US or abroad.
Save