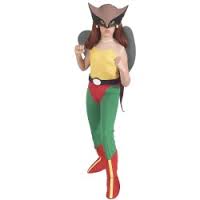 Only knowing by a certain few, but Hawkgirl is way cooler the Wonder Woman.
This Hawkgirl Child Costume
is such an amazing fun child costume and is slowly becoming a very popular Halloween purchase online and it is easy to see why.
It is unique, full of excellent colors and only for girls that like to pack a punch as a strong independent superhero.
Hawkgirl is another popular comic from the amazing DC Comics and she is also part of the group of superheroes called the Justice League.
Hawkgirl is an unique costume to buy for a child at Halloween and one costume that your child will not want to take off.
This costume includes the Hawkgirl headpiece (plastic), wings (light foam with elastic straps), belt, and Yellow, Green & Red jumpsuit with tie in back, White netting up at the neck and shoulders, and attached light foam shoe covers. Available in child sizes: Small (4-6), Medium (8-10) and Large (12-14).
You have to wonder, with the making of the Green Lantern movie, Batman, Superman, the forthcoming The Flash and Wonder Woman movies, will Hawkgirl get her own movie. Since all the Justice League characters seem to be getting there own movies, than so should Hawkgirl.
This is a pretty darn cool costume and very unique, especially for the child or teen looking for a cool yet different super hero costume to wear.
Hawkgirl is very unique and such a wonderful costume to look at you can easily see why this is sure to be a popular purchase around Halloween or for any fancy dress party for all children. Be sure to check out the sizes available and beat the pack with this classic.
Save
Save