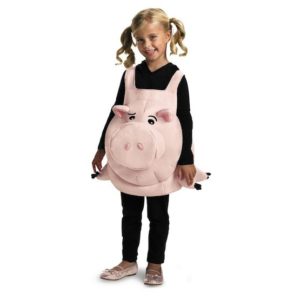 This Child Toy Story Hamm Costume
is a very cute costume indeed and a real perfect Halloween treat for any child girl or boy.
We all know and love by now the Toy Story movies and each of us and our children have our favorite characters.
Here at our site we have many costumes available for most of the characters from the movies for adults and children in all sizes.
Hamm is one such popular Toy Story character and this costume is one of the only available to buy online for the Halloween or any time of the year and there does not seem to be one available for adults.
This costume features a 3-Dimensional foam costume with shoulder straps, a pig face and 3-D snout on the front and a pig back with printed tail and attached feet. Available in Child Size: Small (4-6X).

View Child Toy Story Hamm Costume purchasing details
As simple as this costume is, it still sells well and gets a lot of interest on our site. Toy Story character costumes are always very popular even a few years after the last movie.
Hamm is a popular character and this costume is a favourite amongst children. Be sure to check sizes and availability.
Save
Save