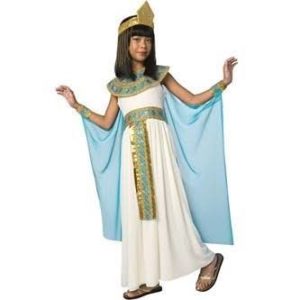 These Teen Cleopatra Costumes
are absolutely stunning and a favorite amongst Teens at Halloween actually for any fancy Dress party.
Luckily, there are plenty of gorgeous designs and styles in all shapes and sizes and it is easy to see why they are so popular amongst teens, they are pretty cool, elegant and classy.
We all know about Cleopatra and how she was a beautiful powerful political figure in Egypt and with the Roman Empire.
Her love for Mark Anthony is the talk of many stories and also was made in to a stunning movie with the beautiful Elizabeth Taylor in 1963 called "Cleopatra".
Because of her beauty and power, tons of amazing costume have been created for her over the years and here on our site we have picked the best to buy online for Halloween.

View all Teen Cleopatra Costume purchasing details here.
These costumes include a goddess like white dress that features a wrap style top with gold accents and Egyptian print on the bottom, a beautiful gold and turquoise bird collar, and a glamorous gold braided headpiece with faux gem stone accents. Available in Teen sizes: Small 1/3, Medium 3/5, and Large 9/11.
Most of these costumes come in all sizes and there are a ton more designs available though these are pretty awesome and some of the most popular been purchased at the moment.
Be sure to check out the other styles available as they are quite stunning and any teen would love to be dressed as elegant as Cleopatra
Save