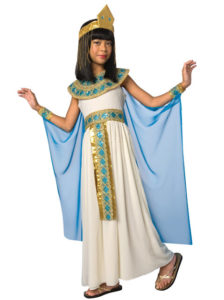 Wow, how amazing is this Cleopatra Child Costume
, it probably one of the best costumes I have seen in this category and for any young girl looking for the ultimate gorgeous Queen/Princess costume for the Halloween or any all year round fancy dress party, you can not go wrong with this costume.
Cleopatra is a a famous Egyptian Queen and a popular choice of costume amongst ladies and children.
In History, she was beautiful, powerful, independent and strong which is why she is a popular choice and since Elizabeth Taylor portrayed her in the 1963 movie "Cleopatra' the demand for these costumes has never stopped and always popular at Halloween.
This costume includes an Egyptian-style white dress with a gold and blue collar and belt with attached blue cape, gold and blue wrist cuffs and a gold headpiece.
Available in Child Sizes: Small (4-6), Medium (8-10), Large (12-14). From the review I have seen they are probably the most positive given especially for the price.

View Cleopatra Child Costume purchasing details
On our site, we have many Cleopatra costumes for children and adults and I have to say there is not a bad looking costume to be found, all are quite amazing and the costumes for children are simply breathtaking.
Each design created by the fancy dress companies are of the highest quality detail and style with many accessories and are a popular purchase not just at Halloween but all year round. Be sure to check out these designs, sizes and availability.
Save
Save