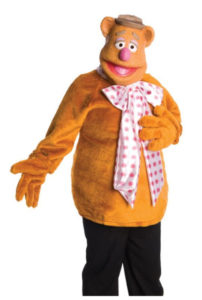 For the price, this Fozzie Bear Adult Costume
is great value and of fantastic quality.
As adults we all remember the Muppet Show and we all would have had a favorite character, if yours was Fozzie Bear then you will love this costume, makes a great Halloween fun costume.
The brilliantly popular Fozzie Bear costume includes a fuzzy top, character tie, an extremely handsome Fozzie over-the-head mask and gloves.
So get ready to entertain, because if you're anything like Fozzie, it's in your blood! Available in Adult Sizes: Small and Standard.
As you may know, the Muppets are making a big return to our screens which is of course, exciting news and brings back flashes of childhood.

View Fozzie Bear Adult Costume purchasing details
I love Fozzie bear and it it fantastic to see a costume available for him and ready for adults to have fun with whether for family fun or a fancy dress party, this costume will surly make people smile and laugh and is a whole lot of fun to wear. This costume is also available for children also and it is very cute indeed.
Save