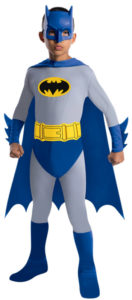 This Batman Child Costume
is proper old school, unique, fun and purely the real original Batman and is now available in children's sizes and a real Halloween winner.
This is one of the most popular costumes in the superhero theme for young children and can also be worn by girls as well of course boys.
Batman is probably one of the most popular superheroes of all time.
From DC Comics, he was also involved in a famous TV programme in the 60's where this costume originates and it is just a pure classic cool Batman costume and perfect for trick or treating at Halloween.
This costume includes a muscled Batman jumpsuit with attached boot tops and arm gauntlets, attached foam utility belt, courageous cape and masked headpiece (to hide his secret identity).
The grunts of Gotham won't know what hit 'em! Available in Child Sizes: Toddler (2/4), Small (4/6), Medium (8/10), Large (12/14).

View Batman Deluxe Child Costume purchasing details
This it has to be said, is a pretty awesome child costume, an old school looking classic Batman that is just quite amazing looking.
Batman is always very popular as are all superhero costumes, and companies keep creating amazing costumes such as this that keep blowing us away with the quality and design that it is a privilege to add to our site.
Save