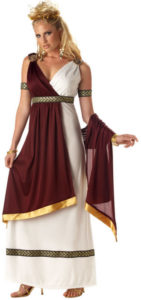 How stunning is this Roman Empress Adult Costume
, a beautiful Roman ladies costume that is quite popular and a perfect Halloween costume for the ladies that love the Roman theme.
There are many Empress or Goddess costumes available to buy online these days but this is definitely one of the best that I have seen which is why it is on our site.
We all love Roman History and because it is so vast it has giving us tons of options for fancy dress party costume ideas.
From soldiers, Gladiators, Caesars, Empresses, Slaves, Gods and here we have a stunning elegant Roman Empress, just like Julius Caesar's wife Calpurnia, a costume of power and beauty, and perfect as a Couples Costume if you team up with Mark Anthony, Julius Caesar or a Centurion.
As a Roman Empress you will be the talk of any Halloween Party. This Costume includes a white dress with attached maroon drape, gold medallions and matching armbands. Available in Womens Sizes: Small (6-8), Medium (8-10), Large (10-12), X-Large (12-14).

View Roman Empress Adult Costume purchasing details
Never going out of fashion or demand, Roman costumes are still as popular as ever, and thankfully, there is a huge choice of costume available to purchase online which is fantastic.
This gorgeous costume is of the highest quality and a popular purchase around Halloween especially for themed parties and office parties.
Save
Save
Save