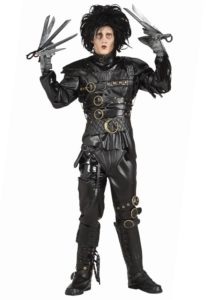 This Edward Scissorhands Costume
is one of my favorite costumes I have seen to buy and it is just crazy and beautiful at the same time, a real Halloween masterpiece.
Tim Burton, who is one of my favorite directors made the Edward Scissorhands movie back in 1990 and it of course starred Johnny Depp as Edward.
It is an amazing gorgeous movie and because of it some amazing costumes have bee created.
There are quite a few designs and styles for this costume but I love this Grand Heritage, it is just fantastic looking and true to the movies original look, perfect as a scary Halloween costume and one you would get plenty of years out of.
This costume includes the unforgettable jacket and pants made from leather, and includes all the fantastic belts and buckles that give Edward that strapped together and bound look.
You also receive the special scissor gloves, main belt, the famously messy black wig and makeup kit; all specifically designed for this costume.

View Edward Scissorhands Costume purchasing details
This is  a seriously cool costume and a whole lot of fun to wear. It has quite an edge to it, scary in a way ye something comical about it.
Some couples have purchased this costume along with the Miss Scissorhands costume to use at parties for a crazy fun night out.
But even on its own, this costume will stand out at any party and turn heads left right and center and can be used year after year and will never grow old, just like Edward.
Save
Save