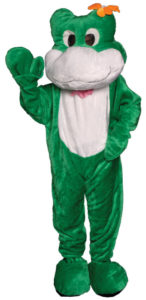 How cool is this Frog Mascot Adult Costume
, as mascots go,this is one of the most colorful on our site and probably one of the most fun to wear.
Mascot costumes are getting more and more popular each year, especially around Halloween and they are also becoming much cheaper and available for people just looking to use them for fun.
Mascots are used all over the world but are the most popular in the USA and are used for parades, Birthday Parties, Schools and colleges, sporting events and so on.
Here we have a large green Frog, and whether you plan to use this for commercial use or just for fun with the family at Halloween or a fancy dress party, you can not go wrong with this. Included are a deluxe frog headcover and a matching full body suit.
Gloves and foot covers are also included to complete this lilly pad ready ensemble! Available in One Size Fits Most Adults. Approximate Measurements: Chest 57-64″, Waist 58-62″, Inseam 30″.

View Frog Mascot Adult Costume purchasing details
The price on this is so cheap and cheerful you will be delighted with this purchase and the fun you will have with it. These type of mascots are becoming popular costumes to buy because of their size and the prices have dropped dramatically as you will notice, enjoy!
Save
Save
Save