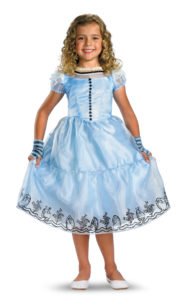 This Disney Alice in Wonderland Child Costume
is a very popular Alice costume indeed due to how gorgeous it is and the quality of the material it is made from.
There have been a great selection of Alice costumes for children as well as adults and come Halloween these Alice costumes will be probably be one of the most sought out costumes for little girls this year.
This costume here comes from the famous 1951 Alice in Wonderland Cartoon which was made by Disney and is a classic and includes: A classic character dress featuring attached apron with character cameo and shimmering sheer ruffles, headband with blue bow and a petticoat and is available in Toddler/Child Sizes: Toddler, Small and Medium.
Come Halloween your child will love you for selecting this costume.

View Disney Alice in Wonderland Child Costume purchasing details
We absolutely love the look and feel of this costume. here are many Alice costumes available for children as well as Adults and many many designs and styles, but this is one of our favourite.
From the original Disney movie and still to this day, much loved by children all over the world, this costume can be worn all year round and is on of the bigger sellers over at our costume companies.
Save
Save
Save