Do you want to build a snowman?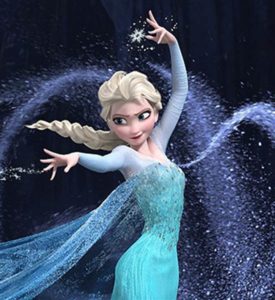 It's very hard to believe it's nearly been a year since the whole Frozen phenomenon and madness began and there is no sign of it slowing down what so ever. The demand for the Frozen merchandise for the Christmas 2014 has gone through the roof and most toys etc are selling out so fast it could possibly break records.
A lot of people bought Frozen costumes for their children for the Halloween this year but there is still a demand for these amazing costumes and now especially for the coming Christmas as gifts for kids. We here at our site predict these costumes, even though there are many excellent costume companies to choose from, will sell out within the next month, so be sure to get shopping now especially since the price has dropped since Halloween.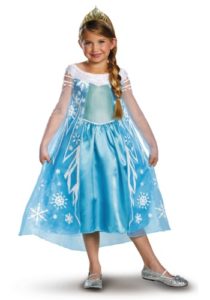 It's debatable, but Elsa is probably the most popular princess amongst children. She's the princess with the magical powers. She wears the prettiest dresses that kids love and she sings that song that I do not want to get back in my head, no, no.
We have featured Anna costumes and also an Olaf costume here on our site which are very popular and worth a look, but it's these Elsa costumes here which seem to be grabbing all the attention.
The character Elsa is loosely based on The Snow Queen, a Danish fairytale by the brilliant Hans Christian Andersen. But in Frozen, you can only feel love and pity for Elsa which is why I love and adore this character and can see why see is the most popular.
After watching the movie for the 1000th time, it is Elsa that we all love and I'm sure your children do too.
Elsa Costumes Will Sell Out Fast!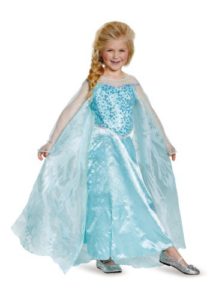 That's our prediction here at Halloweenallyearround.com and if you go anywhere online, Facebook etc you see will young children wearing these costumes so be sure to get yours in early.
These costumes include a gorgeous icy blue dress featuring snowflake embellishments, capes, as well as a sparkling tiara – with a wand, wig and shoes (sold separately). They come in all sizes for all ages.
You have a choice of two stunning dresses that we here are very delighted and excited to add to our website. Be sure to visit the costume pages, find the costume you want and proper size and order away. They are delivered all over the world within 24hrs which is amazing. Your kid will love running around Christmas morning in this Elsa costume and be sure to check out the Anna Costumes and also the Olaf costume too which are amazing. Enjoy
Save
Save