Some Background and Facts!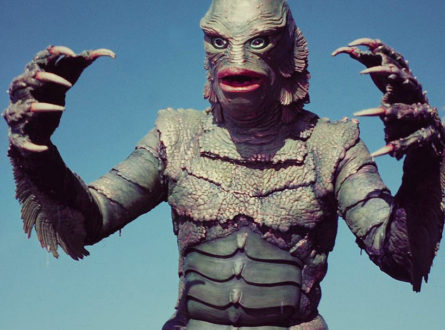 Because we are a huge fan of the Halloween costume available for this monster for children,  (do check it out, it is awesome and one of the biggest sellers) we will talk about this classic cult movie and a possible remake as we tend to do on our site.
The Creature From the Black Lagoon is an original 1954 classic horror movie directed by Jack Arnold. It had a cast of Richard Carlson, Julia Adams, Richard Denning, Antonio Moreno, and Whit Bissell and was one of the first 3D movies. The creature was played by Ben Chapman on land and Ricou Browning in underwater scenes.
The plot rallies around a scientific expedition that are searching for fossils down the Amazon River and they discover a prehistoric Gill-Man swamp creature in the legendary Black Lagoon. The explorers capture the mysterious creature, but it escapes and breaks free. The Gill-Man returns to kidnap the lovely Kay, fiancée of one of the expedition, with whom it has fallen in love with (bless).
During some of the scenes a few of the explorers are mauled and killed. Kay is Kidnapped and brought to a cave, where she is then rescued and the creature is riddled with bullets, sinking in to the lagoon where it is presumed dead.
Cult Classic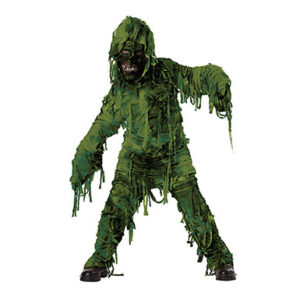 This was a huge hit in the 50's and it spawned two sequels, Revenge of the Creature and The Creature Walks Among Us. Tons of novels and comics were later created, as came a cartoon, musicals, and even an Opera. This Iconic monster was a huge influence in movies to follow such as Spielberg's Jaws, Predator and Alien.
Though this movie is way outdated, a little silly and not scary at all, maybe a remake (though I'm not a fan of remakes) will bring this Iconic horror monster up to date and crazy scarier than any monster today, will have to wait and see.
This was due to happen in 2013 when director Breck Eisner said that his remake of the 1954 classic Creature from the Black Lagoon planned will be an "aggressive sci-fi horror film in the vein of Alien", hmmm, will have to wait and see.
But that has fallen through and a new director and movie draft is now been planned again.
With all that said, you can see why this monster costume is a perfect Halloween or as a matter of fact, any fancy dress party perfect piece. It is sure to be a hit and thanks to BuyCostumes.com
, easy to obtain and be ahead of the pack before it truly takes the stage. Enjoy!
Check out the amazing, scary Creature from the Black Lagoon Costume available for children here…
Save
Save