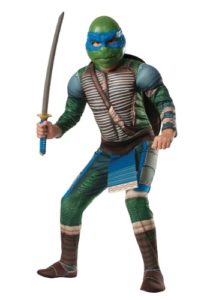 This Leonardo Child Costume
is one of the coolest ninja costumes available on our site and a true child favorite available for the Halloween or any fancy dress party and is one of the most purchased online last year.
All children (and us adults) love Ninja costumes and they can be the most fun to wear at fancy dress parties and as you can see by our site there are tons of cool costumes available.
But some of the most famous Ninjas in popular culture are the Teenage Mutant Ninja Turtles.
The famous four started out as a comic and were introduced in the 80's in a brilliant cartoon which led to some cool movies and another due out in 2014.
The Turtles are loved by children and thankfully there are some really excellent costumes for Halloween and here we have one of the most loved Leonardo.
This costume includes a green jumpsuit with muscle torso, turtle shell, mask and elbow pads. Available in Child Sizes: Small (4-6), Medium (7-8).

View Leonardo Classic Muscle Child Costume purchasing details
Seriously how cool is this costume, which is as popular as ever amongst children and teens and with a new Turtle movie in the making, you can guarantee a re-surge in popularity for these costumes at Halloween or for any fancy dress party.
Save