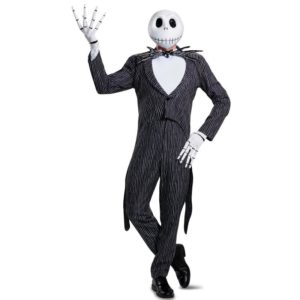 Absolutely love these Jack Skellington Costumes
, they are pure Halloween crazy costumes and a whole lot of fun to wear.
Tim Burton has giving us many amazing movies and none come better than one of my favorites in the classic The Nightmare Before Christmas, which is full of amazing characters and of course the great Jack Skellington with the beautiful Sally.
Really amazing movie for both adults and children and a reason why the search for these costumes is huge.
This movie was a huge hit and funny enough it started out as a poem at first by Tim and gradually became the movie. Jack is a fantastic character to play at Halloween as you can see by these costumes, see more here. This costume includes a pin-stripe jacket, an ascot, a character mask and the distinctive bow tie and is available in One Size only – fits up to size 46.

View all Jack Skellington Adult Costume purchasing details
This is probably one of our favourite movies that Tim has created, so many cool characters. You can also get costumes for Sally for any couple looking for a matching unique idea for a fancy dress party, really a lot of fun. Be sure to check out the Sally costumes available if you need a couples costume idea. Enjoy
Oh, and make sure to watch the video below, really fantastic movie and will always place a big smile on anyone's face, great way to start the day.
Save