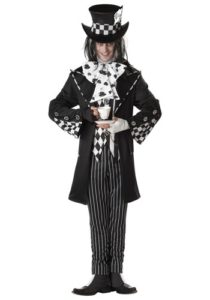 This Dark Mad Hatter Adult Costume
is such a cool creepy maybe even scary costume and a real Halloween treat.
The Mad Hatter has become one of the most popular characters and costumes to buy online and this can all be related to last years Alice In Wonderland movie.
He is such a crazy character that it is easy to see why he is so popular.
Johnny Depp played the Mad Hatter in Tim Burton's movie in 2010 and since then the search for this costume has exploded.
The great thing is there have been many new styles and designs created for this costume (view here) but this Dark Mad Hatter is my Favorite.
This includes: A long black jacket with checkered and swirl details, matching top hat, pinstriped pants, dickey with attached oversized tea cup print bowtie fingerless gloves and two-tone shoe covers.
A vest featuring checkered, striped and swirl details is also included in this wild Wonderland Halloween style and is available in Adult Sizes: Medium, Large and X-Large.

View Dark Mad Hatter Adult Costume purchasing details
This costume is pretty darn cool I have to say and probably my favourite Hatter costume, different, unique, and sure to turn heads at any fancy dress party you attend wearing this crazy outfit.
You can get cool Mad Hatter costumes for young girls and boys too and this costume can also be worn by women. Be sure to check sizes and availability.
Save
Save