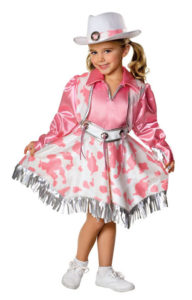 This gorgeous Cowgirl Child Costume
is one of the most popular cowgirl costumes been purchased online for children simply because it is cute and a lot of fun to wear and looks fantastic.
Cowgirls are just as popular as cowboys amongst children and there are many different styles available but this one is just superb and can be worn at Halloween or all year round.
Annie Oakley was a famous cowgirl and your child can too be just like Annie and team up with other Cowboy costumes for some wild west fun.
This costume is the perfect one for all of her interests. A fun and flashy costume with a country kick, the Rhinestone Cowgirl Costume includes a tan and brown spotted vest and skirt with brown fringe and pink trim.
Also included are fringed arm bands and a pink scarf to add some extra flare to her costume! Available in Child Sizes: X-Small (4), Small (6), Medium (8), Large (10). Includes: Vest, Skirt, Arm Bands, Scarf. A true Halloween cowgirl costume that will put a smile on any childs face.

View Cowgirl Child Costume purchasing details
Sure to be hit with any child, this costume is a childs dream. Classic looking, of top quality and fun to wear. Cowgirl costumes are becoming quite popular with children and as I have seen with the costume companies creating them, the range of choice is growing daily which is great news for parents looking for unique costumes for their child.
Save