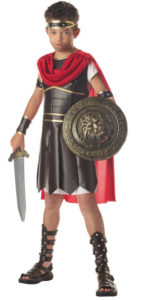 This Child Roman Soldier Costume
is a pretty cool and exciting Halloween costume for any young child looking to be the talk of any fancy dress party and for children who love been soldiers.
There are of course thousands of costumes available in the soldier theme but it is pretty hard to find a decent one and one that will be delivered right to your door.
The Roman Empire will always fascinate people and there have been countless books and movies depicting the Romans through the centuries.
Because of this, we have a huge choice of many different costumes to choose from which is great and with the Soldiers you have helmets, spears, shields, swords, boots and so on making it a very exciting costume to wear around the Halloween time.
This costume includes tunic, chest armor, leg guards, belt, cape, and helmet. Available in Child sizes Small (4-6), Medium (8-10), and Large (12-14).

View Child Roman Soldier Costume purchasing details
Always always popular, Roman Soldier costumes will never die of popularity and lucky enough there are hundreds to choose from for children as well as adults and most are of top quality and a whole lot of fun to wear.
Save
Save