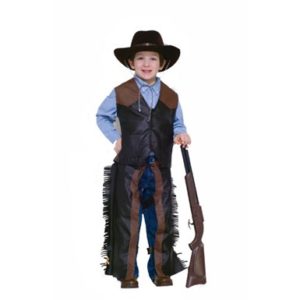 Looking for a really cool Child Cowboy Costume
, look no further than this popular awesome and fun cowboy costume.
No matter how generations change, cowboy costumes will always be popular amongst children girls and boys, simply because they are just cool and a lot of fun.
Whether it is John Wayne, Annie Oakley or Woody from Toy Story, these costumes are always a hit with children for birthdays, fancy dress parties and Halloween.
This great ensemble includes a long brown duster style jacket, a tan button down vest, a light brown cowboy style belt with bullets, and a classic red bandana.
A cool brown cowboy hat is also included to complete this Wild West look.
Sure to be a hit at his next costume shindig! Available in Child sizes: X-Small 4, Small 6, Medium 8, and Large 10. Sure to be a hit with any child at Halloween.
View Rawhide Renegade Child Costume purchasing details
As a child, you really can't beat a game of Cowboys and Indians with your friends, running around, playing dead, having shoot outs, I remember it well, and finding the right costume makes it even better.
Lucky enough there is a lot of Cowboy even Cowgirl costumes available to be purchased online with a wide range of styles and designs.
Your child will love racing around in this costume, a costume sure to impress all friends.
Save
Save