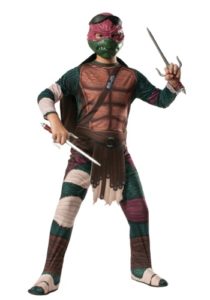 Just looking at this Raphael Classic Child Costume
you can easily see why this is one of the most popular child Halloween costumes to be purchased online over the years and still again this year.
Ninja costumes rock, period, and as you can see on our site there are tons available for both girls and boys as well as us adults and some are just amazing looking.
But, out of all the famous Ninjas in popular culture, The Teenage Mutant Ninja Turtles are probably the most well known and most popular amongst children and there have been countless comics, cartoons and movies with a new Turtles movie due out in 2014.
Raphael is one of the most loved Turtles and here you can see a cool costume available for the Halloween.
It includes a green jumpsuit with muscle torso, turtle shell, mask and elbow pads. Available in Child Sizes: Small (4-6), Medium (7-8).

View Raphael Classic Muscle Child Costume purchasing details
There is a seriously huge and I mean huge choice of ninja costumes for adults and children and in this range, we really are spoiled for choice and most are quite amazing looking.
The Teenage Mutant Turtles will never lose their appeal, and when the new movie is released you will be sure to see a huge surge once aging in purchases of these amazing costumes.
There is an excellent choice of costumes but pity there is not one, yet, for Splinter which I would love to include on our site and introduce to our visitors, will have to wait and see.
Save
Save