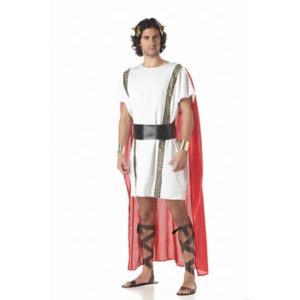 How cool is this Marc Antony Adult costume
, out of most of the Roman Mark Anthony costumes I have seen on the net, this is probably the best with great reviews and the reason it is on this site.
It is a popular Halloween purchase and of quality material and perfect for anyone interested in the Roman theme this year.
Mark Anthony was a Roman General and is a popular historical figure. He was the lover of Cleopatra and a friend of Julius Caesar.
This costume represents power, strength and leadership and is a pure head turner at fancy dress parties.
It is also perfect for a couples costume if you link up with the beautiful Cleopatra for the perfect Halloween fun.

View Marc Antony Elite Collection Adult purchasing details
This fully finished garment includes a burgundy knee length tunic with zipper in back, gold puff print chest detail, attached waist flaps, matching cape with button shoulder accent, fabric cuffs, and fabric gold leaf headband. Available in Adult Men's sizes Medium, Large, and X-Large.
As always, anything to do with Roman History is always a popular costume choice whether it is for men, women or children. There is always a huge range of costumes available and most are of the highest quality.
These types of costumes are always popular with couples simply because they look amazing and are so much fum to wear. There is a vast range but I have to say I really love how this costume looks, lots of detail and would most definitely stand out at any fancy dress party.
Save
Save