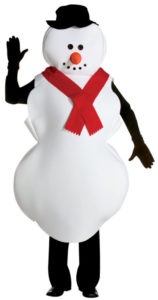 How cool looking is this Snowman Adult Mascot
, it is one of the most friendly and fun looking Snowman mascots you will see and because it has a very friendly, cheerful and non-threatening facial expression.
It is perfect for schools, day care and libraries and is always a huge hit with children.
Mascots are been purchased at a huge rate these days especially for Halloween and since they have become more affordable for people, the selection has become huge.
Mascots can be seen all over the world in schools, colleges, beside sports teams, at music events and walking in parades and they are especially popular and a big part of the culture in the USA.
This mascot reminds me of the movie The Snowman and can be very popular around the Christmas time.
This complete mascot costume includes: character mascot oversized head with terrific facial details and hat, plush body, mitts, scarf, spats, and shoe covers.

View Winter Willie Snowman Mascot purchasing details
Available in one size, Adult Standard and fits most men and women from 5'8" to 6' tall and up to 190 lbs. Vision for this mascot is through the eyes.
Our list of costumes we are researching for the Christmas market is growing and growing with the demand for cheap yet quality costumes and the amount of amazing costumes is huge which is fantastic.
Each day we are blowing away by the choice as I am sure you will be too. As well as this fantastic Snowman you will find quality Santa Claus mascot costumes, this excellent Rudolf costumes and one of my favourite Reindeer costumes on the site, a huge excellent choice of mascots available for the holiday seasons.
Save
Save
Save