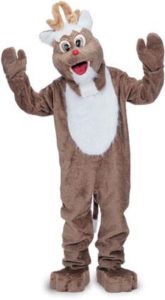 How funny and cute looking is this Reindeer Economy Mascot Adult Costume
, a perfect Mascot costume for the coming Christmas for anyone or family looking to have the most fun this year or for anyone who has to march in a Christmas parade.
Mascot costumes have become a top purchase at Halloween but also at Thanksgiving and Christmas, Easter and Saint Patrick's Day and the price of these crazy big costumes has dropped dramatically and made affordable for the ordinary shopper.
Mascots as we know are all over the world in every corner and are very popular in the USA. Mascots can be seen in schools, marching in parades, in colleges, sporting events, music events, plays and TV advertisements.
For Christmas, especially for parades or just for the house, this Reindeer costume is very popular due to its price and also it is amazing looking and quality.

View Reindeer Economy Mascot Adult Costume purchasing details
It Includes a plush reindeer headpiece complete with red nose, fuzzy jumpsuit with back zipper closure, mitts and foot covers. Available in One Size Fits Most Adults.
These costumes around Christmas are huge sellers along with of course Santa Claus costumes and they are perfect for family fun as well as for schools and parades. These costumes sell like hotcakes and quite funny enough, all year round.
Save
Save