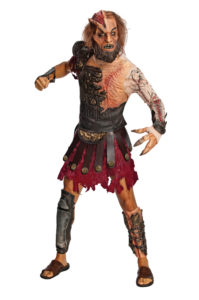 This Calibos Adult Costume
is a pure crazy scary and fun costume and perfect for the Halloween for any adult looking for something different for a fancy dress party.
There are many monster costumes but few stand up to or match the crazy look of this beast.
Calibos is a hideous monster from Greek Mythology and was also the villain in the hit movies "Clash of the Titans". He was the son of the Greek goddess Thetis and was struck down with lightening by Zeus which made him the hideous monster he is.
For Halloween you too can stalk and creep people out at fancy dress parties with this popular design.
This costume includes a tattered, screen printed tunic, molded chestpiece featuring scar and partial armour details, fearsome character mask with attached hair, molded finger tips, arm gauntlets, shin guard, and partial armour shin guard with scarred skin detail. Available in Adult Sizes: Standard and X-Large.

View Deluxe Calibos Adult Costume purchasing details
For the price, one of the best monster type costumes we have on our site and a whole lot of fun to wear. This costume also comes in child size to and you can easily theme up with any other mythology character for a group or couples night out.
Save
Save