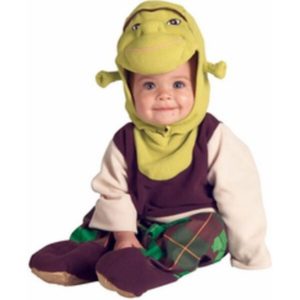 Just how cute is this Baby Shrek Costume
, one of the cutest costumes I have seen for a child and a perfect Halloween costume for any parent looking for that heart melting moment.
Shrek movies are very popular amongst children and especially us adults and dressing our kids up in their favorite Shrek character is easier these days with the vast amount of Shrek costumes available to buy online as you can see here at our site.
Shrek was a huge success at the box office and it spawned a whole load of excellent costumes for Halloween for adults and children.
This cute costume is reminiscent of Shrek's look with the long sleeve cream shirt, short brown vest and green plaid pants.
It also has attached boots on feet, a character headpiece (velcro closure) and leg snap closure – convenient for diaper changes. Available in Infant size (6 to 12 months) and Toddler.

View Baby Shrek Costume purchasing details
This is one of our favourite baby costumes available online. It is just way too cute and you can easily see why it is a popular costume to be purchased from all the companies that create them, pure magic and to be enjoyed and valued by any family.


Save