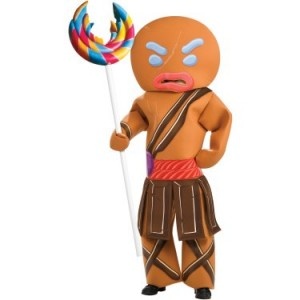 Just how cool is this Gingerbread Warrior Adult Costume
, seriously, it is one of the funniest and exciting Halloween costumes I have seen in years.
Coming straight from the amazing Shrek Movies and full of crazy energy, Gingy The Gingerbread man was created by The Muffin Man in the movies, and in Shrek Forever After, Gingy is a Warrior in which this costume comes from.
Gingy is a popular character and you can get this costume for children as-well.
But for adults at Halloween looking to make an impression you can not go wrong with this one.
This costume includes: A jumpsuit featuring screen printed chocolate and licorice armor, attached chocolate bar upper leg armor and hand covers.
A character headpiece featuring a battle scar in the center is also included in this candy man's costume and is available in Adult Sizes: Standard and X-Large.

View Gingerbread Warrior Adult Costume purchasing details
As an adult wanting to make an entrance, an impression and turn some heads at a fancy dress party you really cannot go wrong with this genius of a costume to make your name at a party.
One of the most popular costumes I have seen for an excellent price and ready to be shipped right to your door, you really are spoiled with this one.
Save
Save
Save