What are the best Halloween fancy dress costumes for children for this year? With so much of a choice for parents and children themselves, here I have put together a great list of the best costumes and sites around for babies as well as girls, boys and teens with many up to date costumes from funny to scary, to cute, to movie characters to action and so on. Most are reasonably cheap yet quality made which is great news for today's budgets and also for parents with out the time to make costumes. Just scroll on down the page and click through to the site that you like, enjoy.
Toy Story Movies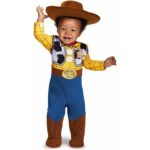 One of the biggest and most popular selections of fancy dress costumes has come from the excellent Toy Story Movies. We all love these movies and especially our children and the vast choice of costumes to choose from is outstanding. All you have to do is think of the characters in the movie and you can get the picture of the costumes available for your child. We have Woody, Buzz Lightyear, Jessie the Cowgirl, Hamm, Alien, Bo Peep, Rex and my favorite, Sarge. Most of these costume are both suitable for boys and girls. They are probably as I have noticed, the most sought out costumes on the Internet and as you will see from how cool they are just why any child would want one for a fancy dress party.
Sarge The Green Army Man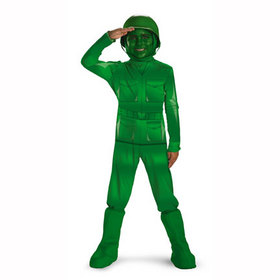 I think this is one of my favorite costume ever, either for the child or adult. Sarge is a brave soldier and a great friend of Woody, and the costume available makes me really want to be a young lad again and dress up like this. It is an all green printed jumpsuit with green pants, green boot covers, green helmet, green hood and add in some green face paint you can easily see why this is one of the most popular costumes around. It is class looking and can suit both boys and girls.
Ninjas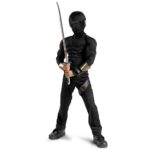 Step in in my opinion the ultimate child costume, the Ninja. Always one of the most popular costumes available due to the vast amount of different styles and designs available and the fact they are for both boy and girl. Ninjas have been popular through movies and TV from GI Joe to the Teenage Mutant Ninja Turtles and are as popular today as ever. The costume are amazing looking. There is nothing more exciting to be in a disguise and nobody no who you are, to be a warrior with (plastic) weapons from swords to Ninja Stars, very exciting. These are some of the coolest costumes you will ever see.
Famous Bears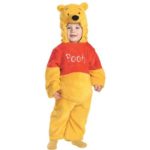 Bear costumes have always been a popular choice for children for any age and there are so many costumes available to choose from. You have Fozzie Bear, Huggy Bear, Winnie The Poo, Yogi Bear, Teddy Bear, Honey Bear, Panda Bear and Koala Bear and on and on and they are all extremely cute and perfect for any child from any age.
Teenage Mutant Ninja Turtles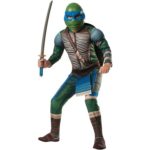 Always popular and never going out of fashion are the Teenage Mutant Ninja Turtles. As from their humble beginning as a comic
to the fantastic TV show, they have been with us it would seem for a long time and still as popular as ever. The costumes available are just fantastic looking and suit both girls and boys. With an all green turtle suit and a cool turtle mask, add in some turtle weapons and we are on to a winner, very cool indeed.
Owls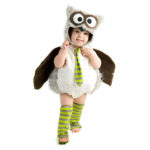 In recent years, the hunt for cool child Owl costumes has become one of the most sought out costumes to buy online and the simple reason for this is, Harry Potter and also the Owls of Ga'Hoole movies. These movies have been huge hits amongst children and the costumes available are very unique indeed. Soren from the Owls of Ga'Hoole is a popular character and the costume available is so cute and cool it is perfect for any child looking to be unique at a fancy dress party. Hedwig, Harry's Owl friend is another very popular character and also a very adorable costume that is a must see.
Mad Hatter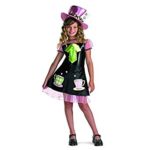 The Mad Hatter is a unique individual and one of the most popular Alice In Wonderland characters from the hit movie. As we know how crazy this character is, well you can just picture how crazy the costumes are that are available. These Mad Hatter costumes are available for both girls and boys and are for young children to teens, coming with crazy styles and loopy hats they are the perfect Halloween costume.
The Queen Of Hearts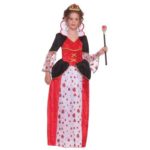 A really popular character, the Queen Of Hearts is an unusual strange and funny person. Again, think of the character then think of the costumes available for young girls up to teens, they are just stunning, beautiful and crazy all rolled in to one and a must see. There are tons of different styles and designs available and any young girl will not ever want to take these off.
Shrek Movie Costumes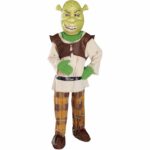 Everyone one loves the Shrek Movie franchise and are in love with the amount of great character they have created. Lets start with the hero, Shrek. There are brilliant costumes available for bunting to young boy to teens and are very unique indeed. Then we have the hilarious Donkey and again, available for bunting, young children and teens and are excellent looking. All little girls love been princess and as we know, we all love Princess Fiona. The costumes available for her just have to be seen. They are just stunning and come in a variety of styles and designs for bunting to young girl to teens, absolutely beautiful. Then we have the Gingerbread Man, this costume is just hilarious with it's big candy head and candy stick, a brilliant Halloween costume. One of the cutest and coolest in the Shrek costume choice is the wonderful Puss n' Boots costume available for children, a masterpiece of a costume that must be seen.
Alice In Wonderland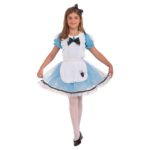 Probably one of the most sought out costumes for little girls going. Ever since the 2010 Tim Burton brilliant Alice In Wonderland movie again these costume have become as popular as ever. The great thing is there are so many different styles and designs available you are spoiled for choice for a very young child to teens. There are Disney Alice costumes to classic Alice costumes and your little girl will love this look.
Roman, Centurion or Gladiators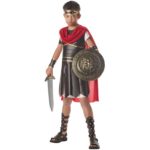 This is always a popular child's costume choice, especially for little boys and there is a huge selection to choose from. The Gladiator costume available is just a brilliant looking costume with helmets and sword. Equally as good are the Roman Soldiers or the Centurion costume available. With tunics, body Armour, swords, spears, shield, helmets, sandals you can easily see why these are truly unique and very appealing to young boys.
Cleopatra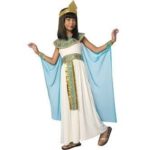 Probably one of the best little girl or teen costumes available to buy online, absolutely stunning. Cleopatra is a popular historical figure and her Egyptian look is just amazing. The dress available are gorgeous and come with capes, wrist-cuffs, armbands, gold tone neck pieces and crowns, and any little girl will easily fall in love with this costume and never want to take it off, these are a must see for any child or teen.
Creature from The Black Lagoon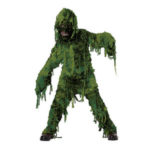 I have to put my hand up and say I love this costume and hope they eventually make it for adults. In 2013, they are remaking a version of the classic 1954 movie and it is sure to be a hit and bring out a lot of costumes and also Art and posters. But for now there is just one, crazy amazing costume available and it is one of the best monster costumes around . It suits both boy or girl and is a green scaly jumpsuit with torn green mesh, with webbed hands and feet, a hideous mask with narrow eyes, a droopy face with an angry mouth and yellow teeth, easy to see why this will be so popular but for now it is still unknown so a perfect choice for a child as you can guarantee it will be one of a kind at any fancy dress party.
Yogi Bear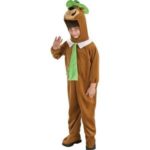 Since Yogi Bear has been reintroduced to us in the 2010 movie the hunt for a Yogi Bear costume for children has become a priority. Well, the Yogi Bear costume available is just one of the cutest and most popular available to buy online. With its little green tie and Yogi hat it is just adorable and a must see.
DC Comic Superheroes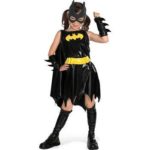 What a great choice of costumes we have here for children. The DC Comics where a popular 40's comic and have been reintroduced through the latest movie The Green Lantern. As well as this great character the Green Lantern you have The Flash, Batman, Superman, Super Girl, Wonder Woman, Hawk Girl and other Justice League Of America characters all perfect costumes for both boys and girls, true Halloween child amazing costumes that must be seen
Save
Save